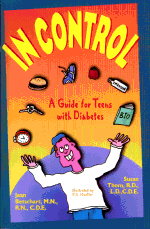 Finally, a book about diabetes that you'll actually want to read. This helpful and highly readable guide explains everything you need to know to get through the teen years. Straightforward and current, this one-of-a-kind book tackles the issues, and answers the questions you might face, including:
Is it time for me to handle more of my diabetes care?
What can I do about mood changes?
What about junk food or fast food?
When should I tell my boyfriend or girlfriend about my diabetes?
Does diabetes affect my sexuality?
How do I choose, talk to, and negotiate with my medical team?
Item #007
In Control: a Guide for Teens With Diabetes
ISBN 0471347426 John Wiley & Sons, 1995