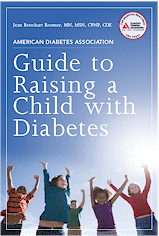 In this newly revised third edition, parents will learn how to help their child adjust insulin, have a busy schedule and still feel healthy, negotiate the twists and turns of being "different," accept the many challenges life has to offer, and much more.

Raising a child is hard. Add in the day-to-day challenges that come from having a child with diabetes, and it becomes even harder. Luckily, diabetes research and advancements over the past few years have made it easier to manage your child's care, helping you and your family get back to a normal life.

Guide to Raising a Child with Diabetes is an invaluable parenting tool, featuring the latest advances in diabetes care, plus parenting advice from diabetes experts. Learn to navigate through the normal activities of childhood and raise your kids to be strong, confident, and capable of managing their own diabetes care.

Learn about:

Adjusting insulin so kids can eat their favorite foods
Helping your child accept insulin injections
Developing a meal plan for your whole family
Raising a child with type 2 diabetes
Transitioning to adult care
Few books so skillfully present the amount of information found here. It will be your helpful companion through periods of picky eating, sick days, and times when your child is reluctant to do a blood test or take an injection.
Item #009
Guide to Raising A Child With Diabetes 3rd Edition
ISBN 978 1-580-40435-8 American Diabetes Association, 2011.